New album "Superstitches" available now!
Ten years after unleashing his debut album and just in time for Halloween, France's infamous D.I.Y. rock monster Traumatisme returns to put the "fun" in "funeral" with the surprise release of his seventh monsterpiece Superstitches, available now!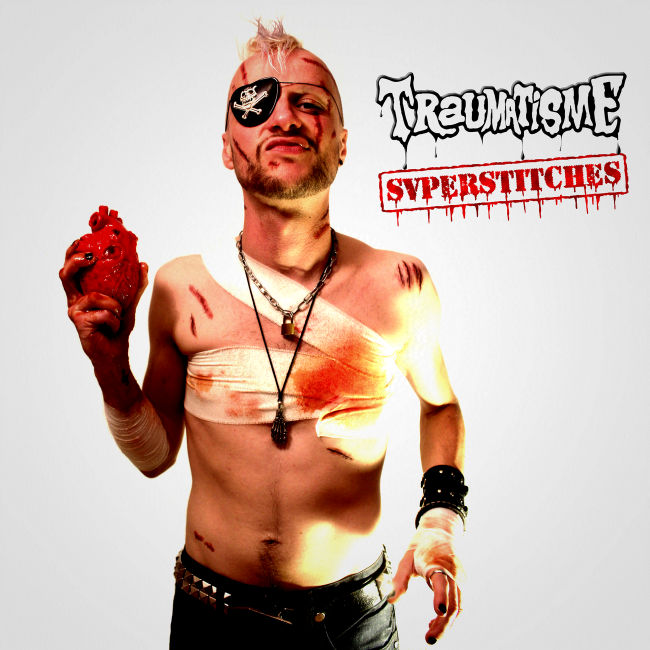 Album cover photography by Sophie Melet

1. Crown Of The Clown
2. Fun In Funeral
3. Ghoul Next Door
4. Premature Burial
5. Army Of Me
6. Doom Service
7. Necessary Evil
8. Melody Magic
Clocking in at just thirty-three minutes, Superstitches is an "all killer, no filler" manifesto of bright, raw and powerful anthems made from blood, sweat, tears and heart. This short and electric monster is the definitive Traumatisme album; a cathartic and defiant celebration of life, scars and imperfections, brought to life at full throttle with personal yet universal lyrics and poignant melodies.
As always, the album's eight cuts are entirely sewed together the D.I.Y. way and produced, composed, recorded and performed by the "one-man band". As each Traumatisme release, Superstitches is a true labor of love and passion crafted with no budget, no boundaries, and most importantly, no compromise; a self-empowering rollercoaster ride made for repeated listens, and meant to be played at maximum volume!
Superstitches is available now in several formats:
• The collectible CD edition, featuring an 8-page booklet with lyrics and photos, is strictly limited to 100 copies and only available to order online from Traumatisme.
Click HERE to order your copy!
• The album is available for streaming on Traumatisme's YouTube channel, for free and without annoying ads.
Click HERE to listen on YouTube or check it out below!
• The album is available for streaming and as a free download at Traumatisme's Bandcamp page, where you can also read the lyrics to each song.
Click HERE to listen and/or download!
• And finally, the album is also available worldwide digitally from all the main streaming and downloading platforms, such as Deezer, Spotify, Google Play, Amazon Music, iTunes and more.
Click HERE for direct links to each platform!

Thanks to all the Maniacs, Monsters and Freaks who will check out the album, see the artwork, read the lyrics, visit the website, order the CD, watch the videos or support Traumatisme in one way or another. And for the uninitiated souls discovering Traumatisme's music, here comes the usual disclaimer: THIS ALBUM IS TOTAL D.I.Y.. It was recorded at home with nothing more than a guitar, a bass guitar, old keyboards, a computer and inexperienced vocal chords with a bad French accent. Please be very indulgent and open-minded while listening. If not, please listen to something else and/or go to hell. You have been warned!
Either way, last but not least... PLAY IT LOUD!